Instigating And Integrating:
Transformational
Performance
Breakthrough
Via The Movement From Perception To ACTION!
Let's start at the top …
I am a cognitive modeler, meaning:
1) I model cognition and 2) I make cognitive models
I also mean "at the top" literally, in terms of what's going on in your head.
For any of what follows to make any sense whatsoever it's critical to recognize that for most of us what's happening in the black box of your skull or cranium, or to be more specific the neurocranium, and not the viscerocranium, meaning the part of your skull that encloses the brain.
This is the seat of what most folks call "thinking" and again, being specific, cognition …
cog·ni·tion ˌkäɡˈniSH(ə)n/, noun:
the mental action or process of acquiring knowledge and understanding through thought, experience, and the senses.
Note that at least in this definition, and most others you're likely to find, cognition does not include the movement to action.
This idea of "the movement to action" is the first critical distinction where ACT! | Adaptive Cognitive Training differs from most cognitive training.
Instead of focusing on "process of acquiring knowledge and understanding" ACT! | Adaptive Cognitive Training places attention on how to move through the cognitive process from perception all the way to action and back again to perception as it's shaped by the action taken.
Getting that "action shapes perception"  is essential to making sense of what ACT! | Adaptive Cognitive Training offers in terms of impacting performance.
[File Download: ACT-PerceptiontoActionLoop]
Okay, since this isn't intended to be a formal, rigorous academic paper I'll move on quickly from here.
When I say "I am a cognitive modeler" above, to be more complete and accurate, it should read:
I am a modeler of Embodied Cognition
This clarifies where and how I think "cognition" happens, i.e.: in and through the entire sensory system, which includes both the brain and the body proper, including all the sensory systems in play.
This idea of cognition "situates" it in the world in relation to the agent of action.
In other words, "embodied cognition" is be definition both "situated" and "active" … separating cognition and action become a virtual impossibility when you consider cognition to be a process that happens in and through the body.
This very simple, but profound, idea separates much of what is done in the world of cognitive modeling, because when cognition is NOT considered an embodied act, and the cognitive agent is not by definition an agent of action, it places cognition away from the material, active world into the world of intangible, and largely passive, symbolic manipulation.
Within the embodied cognitive modeling approach I take, cognition hasn't happened until it produces an outcome, i.e.; pure data input, collection and storage is NOT a complete cognitive act in this view.
More often than not, the complete cognitive act shows up in action of some kind, e.g.: an external physical behavioral response such as a speech act, but it can also be a purely internal cognitive act where the outcome remains a change in the internal body-mind that changes the internal neurochemical and neuromuscular patterns of the agent.
The agent themselves may or may not be aware of these change, or may be aware of them in part, but not completely, depending on their level of awareness and sensitivity. However, the conscious awareness of the agent is not necessary to these changes taking place and becoming the new ground of perception, sense making, decision making and action taking.
The chain linking perception to sense making to decision making to action taking is the full representation of cognition as I consider if for the agent. The final link in the chain then becomes the external representation and response of the agent in terms of continuing the iterative perception-action loop.
Modeling the perception-action loop is the basis of all performance improvement as I understand, consider and apply it with clients.
WHY – ACT! | Adaptive Cognitive Training?
Simple …
BECAUSE YOU WANT TO IMPROVE YOUR PERFORMANCE
(or more precisely, you're really hoping for …)
AN ORGANIZATIONAL/PERSONAL PERFORMANCE BREAKTHROUGH!
And, when we look at closely we're likely to find that why this is likely to be so important to you, is because the system you are in and a part of isn't at rest from your point of view … and that disturbance keeps you from performing as well as you'd like to and are capable of performing.
This means that you are not getting the outcomes you want, or you are not able to relax in terms of what you're getting and have so you feel like you're always chasing what you aren't getting or don't have that you want.
This could be: 
Greater Wealth & Financial Security
A Closer And More Intimate Relationship
Better Fit And More Satisfaction In Your Life' Work
More Confidence In Your Ability To Perform On Demand …
Yet you find yourself somehow stuck where you are, needing to do something different, and despite your best efforts not able to make it happen on your own.
This almost 100% of the time means that what's required is either:
STRATEGIC INTERVENTION of some kind to get past a sticking point or limitation that's keeping you stuck in some way.
PRECISION TRAINING to build specific skills relative to performance improvement in the areas you need or want it most, e.g.:

Sales Success
Team Leadership
Personal Relationships …
That's exactly what ACT! | Adaptive Cognitive Training can provide in a way that almost nothing else can match, because it goes right to where performance is generated and happens, into the perception-action loop, and creates massive, impactful … i.e.: TRANSFORMATIONAL … change in the source code of performance.
Essentially you can only act on what you perceive, and for a very great majority of the time, let's say …
99% OF THE TIME YOU WILL NOT PERCEIVE "WHAT IS" …
YOU WILL PERCEIVE WHAT YOU EXPECT!
Your perceptions set up, feed and drive your performance via the loop from perception to sense making, decision making and action taking (what we'll call collectively your behavior).
If you want to change how you respond and take action to create the results and outcomes you get and don't get … you have to start by changing how you perceive what you perceive.
The first step in creating BREAKTHROUGH PERFORMANCE is changing
WHAT YOU'RE NOTICING AND HOW YOU NOTICE FOR IT … "YOUR PERCEPTION"

(i.e.: until you make this change, the distortions you hold
will keep you forever stuck in the pattern you're in now)
Let's get really clear here about what I'm saying for a moment …
I am NOT saying that you will become "distortion free" or that's even the aim of what I set out to do with my client. 
The trick is having choice in the distortions you have access to, so you can choose the what you're noticing and the way you're noticing for it to best fit the context and intention you hold for creating a specific outcome. 
Recognizing that all perception is distorted in some way, specifically in the biases you are using that create the way you filter what you notice and then sort the information that gets in, allows you to accept less than perfection before you can take action and begin creating results and outcomes.
When you fully get this it frees you to find the path of perception to action that most suits the context you're in, and satisfies the outcome you intend AND your unique performance profile and style. 
So, that's the aim of ACT! | Adaptive Cognitive Training … i.e: to free you to be yourself in performing at your best, regardless of the context,  to get your outcomes regardless of the challenges or limitations you encounter.
HOW – ACT! | Adaptive Cognitive Training
In closing ACT! | Adaptive Cognitive Training is an update of a very well established and tested model, the MythoSelf Process.
This model, the MythoSelf Process was designed around a very particular premise, that you have an innate template of how you are at your best, your SUCCESS BLUEPRINT.
The MythoSelf Process model has technology to extract the elements of your SUCCESS BLUEPRINT, the natural pattern you use when you are performing at your best, and making them deliberately and consciously available to you.
Using a kind of shorthand we can document the MythoSelf Process in graphic form like this: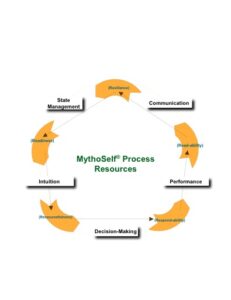 [File Download: MythoSelfProcessResources2]
Functionally the
MythoSelf Process
is a strategic communication performance model that resets your STATE to shift the baseline that you experience yourself and the world around you from, as well as aligning with you with the way you are at your best, the
GDS – "GENERALIZED DESIRED STATE"
  and in relation to the larger context that contains you,
GTS – "That Which Is GREATER THAN SELF."
By creating a rapid oscillation between these two states, GDS and GTS, a third harmonic state arises that contains the resources of both the GDS and the GTS, what we call INTENT.
INTENT creates a massive sense of directionality that organized in the future where the outcome will be realized, making it a remarkably powerful RESOURCE STATE to operate from in regard to creating results and getting your outcomes.
Now, in the update to this model in ACT! | Adaptive Cognitive Training I've integrated three aspects of helping my clients access and experience TRANSFORMATIONAL CHANGE that leads to PERFORMANCE BREAKTHROUGH.
Massive Updates to the Somatic-Semantic Model That We Use to Access, Uncover and Model the GDS, GTS & INTENT
 Much Deeper Integration of the Wholeform Structure of the Autobiographical Narrative and the Underlying Mythic Form
Developmental Modeling as an Integral Part of the Application of the MythoSelf Process Model
These updates make accessing, eliciting, modeling and modifying the patterns of performance much more elegant and effective.
This is especially true of the updates that make Developmental Modeling an integral part of ACT! | Adaptive Cognitive Training, because the Neurocognitive  Developmental Level (NDL) that you are operating from is the basis of your perceptual experience.
When you have the ability to choose the NDL you are operating from you have choice about how you are perceiving data in the environment in which you are functioning. The means you have choice about what you are noticing for and how you are noticing for it.
We've already established that perception is the basis for all performance, and gaining the ability to choose your NDL aligns your perception with the outcome.
The basis of Neurocognitive Development Level modeling is the Eight Gates Model of neurocognitive accessing and integration:
[File Download: EightGatesofPerception]
ACT! | Adaptive Cognitive Training
will give you the skills to become an expert cognitive modeler, whether you use these skills just for self improvement or create performance breakthroughs with others.
Joseph Riggio, Ph.D.
Stockton, NJ in The Delaware River Valley