The Early Years …  College To Marriage: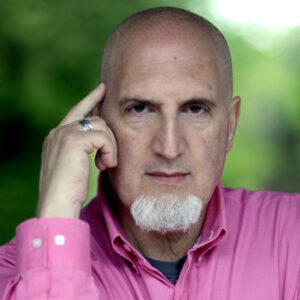 My short lived college career began in 1977.  I started out as an Industrial Engineering major, and then switched to an Architecture major after my first semester. Studying architecture involves engineering, design, economics, art, history, psychology, sociology, and much less math than one might expect. But, I found out I liked math so I took a lot of courses in it. One math course I loved was called, "The Mathematics of the Environment" that modeled shapes and their relationships using numbers.
Later on I learned that there was a speciality in mathematics called, topology, that took that idea much further and it intrigued me, so I taught myself how to do it. Only after I had did I find out it was supposed to be really difficult … and I'm glad, because since I didn't know that I thought it was fun and easy to learn it.
A really cool aspect of topology considers how shapes and spaces can change without breaking or getting stuck as they change, including stuff like connectedness, continuity and boundary conditions. I didn't know it then, but learning how to see the world and think about it in that way has been extremely helpful to me in thinking about how people change, transform, get together and separate too. Sometimes I actually think the shape of the space between people is what relationships are all about … but enough of that for now. Anyway I only made it about half-way through the program in architecture before I quit when I realized I just couldn't take anymore of classroom learning.
Even though I never finished my degree I went out and started an architectural practice with a couple of friends of mine and we did interior architecture and design, which in the United States does not require a license, and that was fine with me. I did that for around 8 years as a partner in that firm I had founded with my partners. We had a great time … a great run, and somewhere around 1986, going on 27, I had a very nice six-figure income. This was during a time in New York City if you had a card that had the word 'Architect' on it and dropped it by accident, someone would pick it up and ask if they could hire you … because there was way more building going on than there were good people to do the work. So part of my success was the genius of the environment, but we did extremely well.
Then I woke up one day and went, "I don't think I want to do this anymore."
I walked into my partners and told them, "I'm done. I'm not doing architecture anymore."
They said, "When?"
And I replied, "Today."
I cleaned out my desk, gave all my projects away and within two weeks I was out of the office.
My wife thought it would have been a good idea if I'd told her before I did that and within a relatively short period of time we were no longer. I'm guessing not telling her about my plans had something to do with it. I've found in that husband/wife and couples thing, that your partner usually likes to know when you're going to make a major life change. But I was young, ignorant and arrogant.
"I Once Was Lost" … Going To The Dogs
I had no idea what I was going to do next. What I knew was that I didn't love the paper and if you're going to be an architect, you've got to love the paper. You've got to love drawing and putting up the buildings or making the interiors or doing what architects do, otherwise, why are you doing architecture, right?
And, I knew I didn't love it. So I quit and moved on, getting ready for the next thing .. whatever that was going to be.
So in that year I went from being a 27 year old making six-figures… to not having a job, not knowing what the hell I was going to do, and knowing that I wouldn't remain doing what I didn't want to do. I didn't want to be sixty-years old looking back at all the years I promised myself I wouldn't do architecture, for the last forty years or whatever the hell it was going to be.
The only thing I knew how to do to put income back into my life to try to take care of my family, was to train dogs so I went back to training dogs. That next year, I trained dogs, wound up separating from my wife, and I think I made a grand total of $13,000 dollars. I had neighbors, relatives, friends, who could recognize the sound of my car from two blocks away and would pull the shade down before I got around the corner because they knew when I got there it was for dinner and a $20 to put gas in the car. I hit up everybody.
I lived off the largesse of my friends and family, I tease about it but they were really and truly incredibly gracious and went out of their way to find me to make sure I had that $20. Because of this incredible resource I was able to have some space to figure it out, but there was no luxury in that space and I was struggling at that point to make sure that my wife and two-year old child were okay, making my child support payment every month.
I walked away not only from my work but from everything we owned collectively, the house, the cars, every possession we had. I took my clothes and moved out, because I wanted my child's life to go on as it had been, as much as possible and to the extent that I could make that happen, I was willing to do that so I just walked away with what I had.
Within a year or two I started doing well again training dogs because the 'making money' part was always easy for me. That was never not a great challenge and so I had another six figure business in dog training going within 14 months but I still knew that wasn't it, that this wasn't going to be the thing to do.
I wanted to do this 'thing with people' but I didn't know what this 'thing with people' meant.
Finding A Way Back From The Edge
I had come across this ad for NLP which I thought was really cool and I called talked to someone about it but I didn't there was a good match there for me. A couple of days later I went into a health food store and saw another ad about a year long NLP Practitioner certification training. So, I signed up, took the training and and I became an NLP practitioner … while I was still training dogs to make a living.
During that training something magnificent happened for me. Richard Bandler, who is a co-developer of NLP, was going to be in town and was going to do this flirting workshop the next day in New York City, but it was Friday night and Richard was coming in early to do an evening workshop with the group. It was an extra $20 dollars to for the workshop with Richard so I immediately signed up to be there because he was the guru of the NLP thing.
The folks who put it together say, "Be here at 7:00." Okay, I get there at 7:00. Today I know Richard a little bit better, but he was a very different character in those days. So 7:00 came and went and there ain't no Richard. We're waiting around and some other people and I were like, (insert whiny tone of voice) "I paid my $20 dollars, I'm here at 7:00, he should be here!"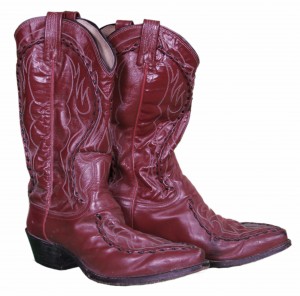 Then it's 7:10. 7:15. 7:20. Still, no Richard. About 7:40 three, four people go "Screw Richard.
At about 7:45 or so, the janitor comes in the room, or at least I'm pretty convinced it's the janitor because Richard isn't showing up to do the seminar and it could only be a janitor. This guy comes in with blue jeans on, tucked into a pair of bright tooled red Mexican leather cowboy boots, a denim shirt, a suede vest with fringes, black hat with what looks like a pheasant or turkey feather sticking out of it, a bolero tie with this hunk of silver and turquoise on it and he goes to the front of the room where the stools are, and I'm waiting for him to pick them up so he can put them closet but instead he goes, "F&#king American Airlines!" and starts talking non-stop for a couple of hours.
This is 1987. I've read every NLP book I could get my hands on because I'm really into this NLP thing and think it's the greatest thing in the world. I was going, "This is like dog training" … you can do this with people – Wow! Cool!" I kept relating everything through this filter called dog training and how it was just like that and I thought if these guys who were teaching could actually do what they were teaching, it would be incredible stuff because they were teaching it. It wasn't being done, it was being talked about. But I thought if they could do it, that this would be incredible.
Now Richard comes in and starts telling this story about American Airlines and I'm going to myself, (insert angry/whiny tone of voice) "What the f#%k's this have to do with NLP?!? I didn't pay for this! I paid my $20 dollars, it's 7:00 o'clock, he's 40 minutes late …" … about 15-20 minutes into it and I look around the room and everyone in the room was slack jawed, and totally, completely, tractor-beam focused on Richard. They're in some wild altered state. And, all the guy's been doing is telling stories.
He started talking about American Airlines, being in California, how he'd moved from New Jersey, and the flirting workshop hed be doing the next day … and the people are in a trance. Gone.
I think he did an exercise or two, but in that moment when I looked around and realized that he was just telling stories and people were in some other space, some other universe, than the one they had walked in … or had put themselves in when they were whining about him not being there … I wanted to be able to do that for the rest of my life. The problem was, I had no idea what "IT" was.
I didn't know. I didn't know what to call it. That was not hypnosis as I understood it because I had heard about hypnosis and even studied a little about it but that wasn't it. That was not hypnosis. What is that stuff? I was blown away.
I made a commitment, literally that night, that I would do whatever it would take. I was going to learn how to do this thing. So I finish the NLP course and immediately decide I want to go through and do a Master Practitioner NLP training. I end up finding a guy named Roye Fraser and I go study with him.
Hanging Out A Shingle .. Time To Go To Work
It's now about two years from the time where I left my work, left my job, separated from my wife and started training dogs. Right about the same time I hang a shingle out that says "Consultant". What I knew how to do was sell really well. So I decided I would be a sales consultant. It only made sense.
Yet now when I think back on it, I think, "I don't know why everyone I talked to didn't kick my ass out of their office. I had no right to be there. I didn't know what the heck I was talking about, really. I had no experience to point to whatsoever, how did I have the arrogance to hang up a shingle and write on a business card, 'Consultant' and go and claim that I could train these people to do sales better than they were doing it?
But somehow I sold myself well enough that they were convinced that they should hire me to teach other people how to do what I'd just done to them. So I got work. And the work was rewarding and financially successful for me. By 1995 I had gone from opening up the consulting door, leaving dog training behind and working full time internationally as a consultant with some of the largest companies in the world – Fortune 100 international companies, companies that have 100,000 people on board, $50-60 billion dollars in revenue, that kind of thing.
I pretty much only worked with the elite, senior sales teams, traveling all around the world at the front end of the plane. My naive arrogance had gotten me so far. Think about it, I'm a kid from Newark, New Jersey who has not finished college, who's traveling around the world on someone else's dime, doing wonderful work, having a great time and having people say, "Wow, you did something really good for us. Thanks!" and getting all kinds of greate reports back from people talking about how their businesses are improving. It was just stunning to me.
The MythoSelf Process: An Homage To Joseph Campbell
While all this is happening I'm still doing some private one to one consulting with individuals, and I develop this idea that I should go out and present this work that I had learned from my mentor, in a model I developed and call the Mythoself Process. I called it the Mythoself Process because I was intrigued by Joseph Campbell's work with mythology.
By 1999 I was out doing trainings with groups of people training them to do the Mythoself Process work. To be quite honest a lot of great opportunities emerged for me. How the heck did that happen? How was it possible? What I did is I really followed my nose. I went, "If its interesting, I'll keep my attention on it and I'll do it."
In 2000 I decided, "I should get a Ph.D." Usually, one of the rules by the way for getting one of these is that you've attended some other school first. I did the elementary, grammar school and high school thing.
I went to the folks who ran the Ph.D. program and I said, "You guys should let me take this Ph.D."
They hardly looked up and said, "Of course, here's the application…"
I said, "I'm not doing the application thing."
They didn't know how to respond because no one had ever said that to them and meant it I guess, so they asked me, "What? What do you mean you're not doing it?"
I said, "I won't pass. I can't check the boxes."
And they went, "Whaaat? What boxes can't you check?"
I told them, "I have no degrees."
They said, "What do you mean you don't have any degrees?"
I said, "I don't have bachelor's degree, I don't have a master's degree."
At that point it got simple for them … "Well then you can't come."
I said, "Oh yes I can. Somebody can make this decision. If there were someone who could make this decision, who would that someone be?"
So I met the Ph.D of Ph.Ds, the Doctor of Doctors, in the school who decided who could become a doctor too and I presented a compelling idea to him, because I had gone out my way to find a particular program that I knew would be interested in the piece of research I'd wanted to do.
I had a strongly compelling platform from which to do that research. I had a unique test group I could work with to do the research with and basically what I heard was, "We're going to let you in, but you'll never be official until you've got every "t" crossed, every "i" dotted, everything you need exactly the way it needs to be done before we even admit you're a student in our school." I said, "I have got no problem with that."
I start doing the research and five years later I completed all the research, put it all together, wrote a dissertation, handed it in and was quizzed and inquisitioned, and I answered their questions about the research and about the paper I had written.
At the end of it the uber doctor said, "Welcome, Dr. Riggio." So I earned my doctorate. I probably have a whole lot less awe of the doctorate than I would had I gone through all the formal steps most folks take to get here.
Star Wars … Through The Eyes Of A Jedi Master
In 1977 I saw the movie Star Wars and in some way it really resonated for me. It imprinted on me. Joseph Campbell, the great mythologist, was a consultant working with George Lucas on that movie during the entire process of bringing it to life. Anyway, Joseph Campbell said something like this about people who have their Ph.D. …
"School is such an overwhelming influence and it is designed in such a specific way that one of the principles that are taught outside of what's being taught formally, but is learned by everybody who makes it through, is how to please the teacher. I was listening to an interview the other night and it was with a baseball player. It's amazingly different then listening to a Ph.D. being interviewed. Every time you watch a Ph.D. being interviewed, the interviewer will ask them a question and the Ph.D. will say, 'Uhhm, uh, well, ummm you see…' and it takes them forever to get the answer out. When you ask a baseball player the same question, they give you the answer right off the bat. It just comes right out. Those guys haven't learned that their whole life was meant to please somebody like the Ph.D. who thinks he's still going to be marked for the answer he's giving."
By the accident of fate, in some way, destiny, one of the things that's really interesting is that I seem to have, myself, been able to avoid the awe-stricken nature of the magnificence and profundity of my doctorate and the need to appease everybody that would have happened had I went along the normal route and received that cultural conditioning that I'm going be graded for everything I say and every paper I hand in.
This is not a new path for me. I happened to be lucky enough to come across Joe Campbell's writing as I was going through that process, so that he could inspire me from afar. The end result is here I am, and I get to do this work that I do and that I love so much and that I have some sense of talent for and some skill.
"But Now I'm Found" … Going Back To My Roots
The path is so utterly circuitous, curvaceous, unknown. The only thing I can compare it to is the way olive trees grow. My family is originally from Sicily, my grandparents actually, and when you go and look on the hillsides, pretty much everywhere on every hillside, there are olive trees. If you look at the roots of an olive tree they have this incredible configuration where they're all twisted and wound into each other. You can't really tell which root is which … is it this one or that one? They're all intermingled and twisted together, and yet each one is separate as well … it's amazing really when you look at them closely. I'm pretty well convinced that is how my life looked too, because it has been over the place in a twisted, crazy configuration and there's nothing normal or straight about it.
There's a story that my grandfather used to tell about some guy in Sicily. This guy was out in sun one day, in Sicily, and he's digging a hole, and the way my grandfather told it, my grandfather's father asked him, "Why are you digging a hole?" He said, "I'm planting an olive tree." My great grandfather walks away laughing, and my grandfather asked his father, "What's the matter papa?" He says, "Son, it takes 60 years to grow an olive tree. What the heck does he think he's doing?"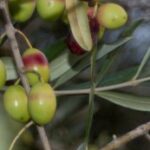 For more than a half a century now these roots of mine have been intertwining, twisting together, digging in deep and building up the vitality so that now there's some fruit, I apologize, I'm now past 60, so while the fruit is not quite young it's still has a lot of time to mature even more, but after 50 years, or so, you can begin to pick the fruit from an olive tree and get the rich, incredibly green creamy syrup that folks from the old country put on everything, it the stuff that lubricates life itself.
So if you're interested in "the stuff of life" like me, maybe we can grow a bit more together and create something wonderful.