Taking A (Semantic) Stand …
What Would It Take To Get You To Put A Stake In The Ground, And Claim That Space As Your Own?"
One version of the story about the Buddha sitting under the Bodhi Tree seeking the complete unfolding of consciousness tells of his last challenge by the gods before his enlightenment. Just prior to realizing his final enlightenment the gods, represented by the demon Mara had him send his most beautiful daughters, sometimes thought of as "Lust" and "Desire," to seduce the future Buddha, but he was unmoved by them, so they departed.
Then Mara sent his monstrous army into the fray, and again Siddhartha Gautama, the future Buddha, sat unmoving and untouched. They launched their weapons, arrows and spears darkened the sky they flew in such profusion, but as they reached the future Buddha they fell around him having turned inflight into a shower of flowers. 
Finally Mara himself stood against the future Buddha, and he proclaimed his right to the seat of enlightenment by the virtue of his spiritual accomplishments, and his armies of demons and monsters all stood with him acknowledging his accomplishments as well. With this Mara asked, "My army speaks for me, who will speak for you?" and the future Buddha seemingly unmoving but for the single gesture of reaching down with two fingers of his right hand touched the earth, and in that moment claimed his right to be and the space he sat upon, and he was enlightened.
This single, final gesture of the future Buddha is captured in the "earth witness" mudra, where the left hand rests palm up upon the knee of the folded and crossed left leg, while the right hand reaches down to touch the earth and claim witness for one's right to be. This simple expression of one's being is the ultimate representation of steadfastness, and the silent exclamation, "I AM!"
I've always found this part of the story profoundly moving …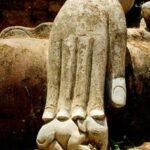 I yearn for Siddhartha Gautama's steadfast stillness, his willingness to simply be … needing nor wanting anything more. Even when the irresistible temptations of mana … power, prestige, authority are thrust upon him he resists, or when irresistible beauty, lust and desire threaten to seduce him he never falters … remaining silent and unmoving.
As I've shared before I'm a "good" Roman Catholic boy by indoctrination if not actualization, and as a good student I've learned my lessons well. This moment of the Buddha's reminds me as well of the moment the devil tries to seduce Jesus in the cave with temptation of worldly gain and power, even trying to trick him with simplicity by offering simple bread and water for his cavernous hunger and blistering thirst … to which Jesus replies, "Man shall not live by bread alone, but by every word that proceeds. out of the mouth of God." rebuking Satan and his temptations.
These mythic forms of claiming one's space, one's right to be, have always been compelling for me.
For almost my entire adult life I have sought to incorporate and assimilate this simple understanding for myself, one's right to be" – and to explore it and share it with others who share my fascination with this thing that I think is the ultimate expression of what it is to be human … our ability to claim our right to simply be, without adornment or even proof beyond our being itself.
The right to be shows up for me most in the idea of what I call one's mythic form … the deep, often pre-conscious autobiographical narrative that defines and drives us. This narrative, unlike most stories that are told pre-exists in form and precedes language … it's more somatic than it is semantic.
It's been thirty years this year that I will have committed myself to unearthing the mystery of mythic form as I conceive of it. What I've convinced myself of in these three decades dedicated to the realization of, what it means to simply be, is that it is held and contained in what drives us to action, and comes to expression in our acts … on our own, with and in relation to others.
This beingness, if you will, is the source of our personal power, it is the seat of our personal performance, and yet it remains elusive at best for most of us.
So we seek to come to terms with our being, what we perceive rumbling unceasingly beneath the surface, driving us, seeking expression, willing us to become .. and, we know it only through what we can call our 'worldview' … the totality of the way we know the world around us and ourselves in relation to it … our private realities.
These realities are what I think of as mythic form, the massive, imposing, singularity of the autobiographic narrative that precedes language, and at the same time dominates everything thing we think and speak. Our mythic form is unmistakable in our actions, in deed and in word. And, can seem to us "a given," fixed in space and time, an irreversible, unchangeable aspect of ourselves … "who" we know ourselves to be.
Yet this simply isn't true, we become what we claim to be, much more fully than what we've known we were. This then is your key to freedom, your key to become fully human, as the renowned scholar and mythologist Joseph Campbell suggested.
This ability to claim our future being is all about what it is to be human, and it requires us to drive a stake into the ground as surely as the Buddha showed us in his simple act of claiming his right to be be by touch the earth with the two fingers of his right hand. In his moment of defiance Siddhartha Gautama was the stake in the ground.
So, as is my wont at the start of the new year I give voice to my stake in the ground, the spot I will sit upon for this revolution of the earth around the sun.
This year I lay claim to "MAD SKILLS" … the expression of virtuosity in action, in my deeds and words. And … I invite you to join me in claiming MAD SKILLS for yourself as well, beginning at the core, with the unfolding of the mythic form, the worldview that drives you.
This surely is at the heart of it all … the chain of causality that determines not just what we do, what we accomplish, realize and gain for ourselves and with others, but ultimately who we become … the worldview we hold, the seat of our perceptions, sense-making, decision-making, action-taking … the results and outcomes we achieve, and fail achieve … our pre-conscious, and ever-present, mythic form.
I share with you that at the very center of our ability to choose and decide who we are in this moment, and who we will become in the next, is our commitment to building "MAD SKILLS" … virtuosity in our action-taking.
There is a paradox I invite you to explore with me this year … that our doing both proceeds from our being, and precedes it as well in our becoming.
My invitation to you is to enter the liminal space of exploration that exists just before and between our acts, to take control of who we are and who we are aiming to be as well.
This is the space that opens before the Gates of Perception that determine how we know the world around us, and our place in it …
Are you ready for the journey of your life?
Remember, this ship you are upon set sails but once for you … lay claim to who you will have been and who you have become before it docks for the last time …
Best,
Joseph Riggio,Ph.D.
Architect & Designer of the MythoSelf Process and SomaSemantics
P.S. – Click this link to find out more about the Gates of Perception and how you can dive in deeper … much, much deeper than you probably ever have now.